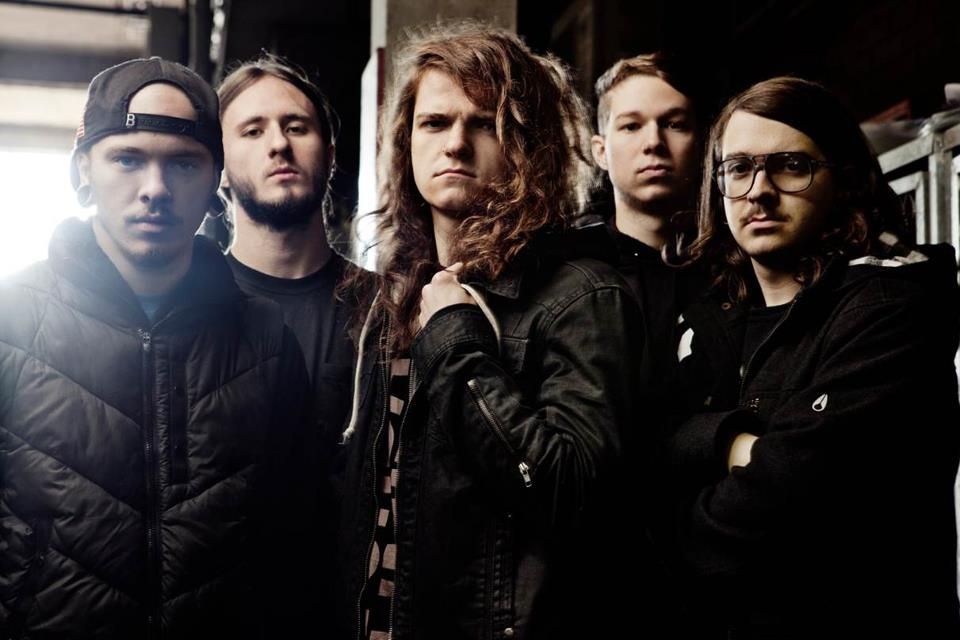 Last time Est.1987 caught up with Ohio five-piece they were over in the UK supporting Parkway Drive and getting prepared to release album number three "At Heart".
Now they are back on UK soil, successfully released their album and getting ready for a headline tour.
We sat down with front-man Levi Benton to chat about what they've been upto, the metal scene and Black Ops II of course!
Miss May I's Levi Benton
So, last time we caught up with you, you were in the UK supporting Parkway Drive; is it nice to be out on a headline tour?
Yeah; it's always nerve-wracking being the headline act because all the pressure is on you. But we're excited. This is our second headliner [in the UK] and last time was insane, so we're looking forward to it.
First night of the tour tonight – are you looking forward to it? Any first night nerves?
I'm tired! [laughing We just did a headliner in the US and we only had one day off before this, so just tired, but ready to get back into the swing of things. We got here two days early so we could get used to the time difference, but I'm always tired.
After the UK you're hitting mainland Europe; are you looking forward to being out there? Do you notice a difference in crowds?
Yeah, the language barrier is the biggest thing but it's awesome with them singing along. I always feel bad when I'm meeting people because I can't really have a conversation with them. We just went to Sweden for the first time on the Parkway Drive tour and I'm excited to go back there; it was insane. On a par with UK stuff.
Miss May I on stage in Manchester
You spent the whole summer sweltering out on Warped Tour in America- is it nice to be in colder climates for this touring run?
It's nice being in a venue so you can control the temperature. Warped Tour is like boot camp, but if you make it through, you're good. The cold here's not too bad; we're from Ohio so it's the same weather there too, but it still sucks. You can't get away from it.
So we hear you guys love your video games? Which ones have you brought over with you?
I did bring my Xbox. It was funny; the first night I tried to plug it into our TV and I got an adaptor that had a fuse, but I guess it wasn't strong enough, and when I switched it on the entire room went out, the whole power. We had to go get room service to come and fix it; it was so bad. And I still couldn't play it. It blows up whatever I play it on so we need to figure it out. I'm messing around with Black Ops 2 at the moment.
You headed down to Radio1 yesterday as well. What were you upto down there?
Yeah, we were doing a Radio Rock Show session. It was nerve-wracking, but really fun. It was crazy going in there and seeing The White Stripes, Coldplay, all those people on the walls in the same room, and then it's like you can't mess up because it's going on the radio. We ended playing a lot better that I thought which was good. Today's sound check was easy because I was like; we've played the songs yesterday.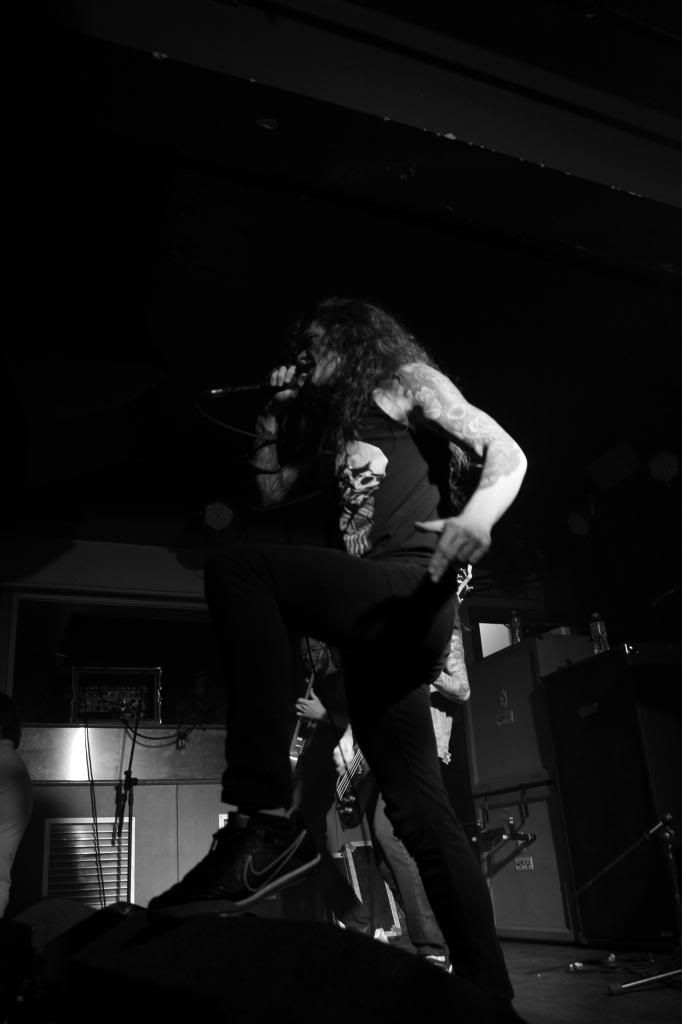 Levi at Manchester's Club Academy
Your album "At Heart" came out in June- is it nice playing all the songs now and having fans singing the lyrics back at you?
Oh, it's great, especially with new songs. With old songs kids do it all the time, so it's nice to have something fresh and have kids singing it at you.
When we met up with you earlier this year you said that the album is a "lot more real", that "there are a lot of songs that are about nothing that other metal bands have written about before"- how's the reception been from the crowd, both live and from the record itself?
Yeah, it's been the best reception out of all the records we've released. We obviously can't make everyone happy, but it's been awesome and it's cool to hear a lot more personal stories on this record than on other ones. Kids are like, "this song helped me through this or that". That's what it was all about. I have packets of letters from on tour and it's nice to see why we did it; the plan worked.
And in terms of the set list – how have you divided it up between old and new?
I think it's almost equal playing old stuff, new stuff and old, old stuff. Even though we're trying to plug the new record we didn't want to over do it, because there are a lot of old fans that haven't got hold of the new record yet. We try to equal it and it's good for us to play old songs and the kids go a little crazier.
What's your favourite song to play live?
"Hey Mister" – kids go crazy for that, it's awesome.
A lot of people kind of started to suggest the metal scene was dead, but the opposite has happened, especially in the UK. What's your take on the re-emergence of metal music?
We're happy. We're trying to bring back; the older metal scene. That's why on this tour it's nice to have all heavy metal bands that aren't really the same genre, but similar. I hope the revival is happening in the US but hopefully we are trying to spark the flame.
And here's what happened when Miss May I took to the stage...
Earlier in our interview with Miss May I front-man, Levi, he said how "Hey Mister" never fails to get the crowd going, meaning it was the perfect opener for the first night of the Ohio band's UK headline tour. From its stirring beginnings to it gritty, violent verses "Hey Mister" does its job and firmly stamps the bands comeback to the UK. The crowd respond wholeheartedly and happily surrender under Levi's command. Energy levels are set high and never even slightly dip during the course of the evening. Newer anthems, such as "Leech" taken from the band's latest release ["At Heart"] are pitted alongside older offerings. "Forgive And Forget" from the band's debut, is relentless and in no short of attack. With huge breakdowns and dynamic screaming vocals Miss May I is setting the Club Academy basement alight.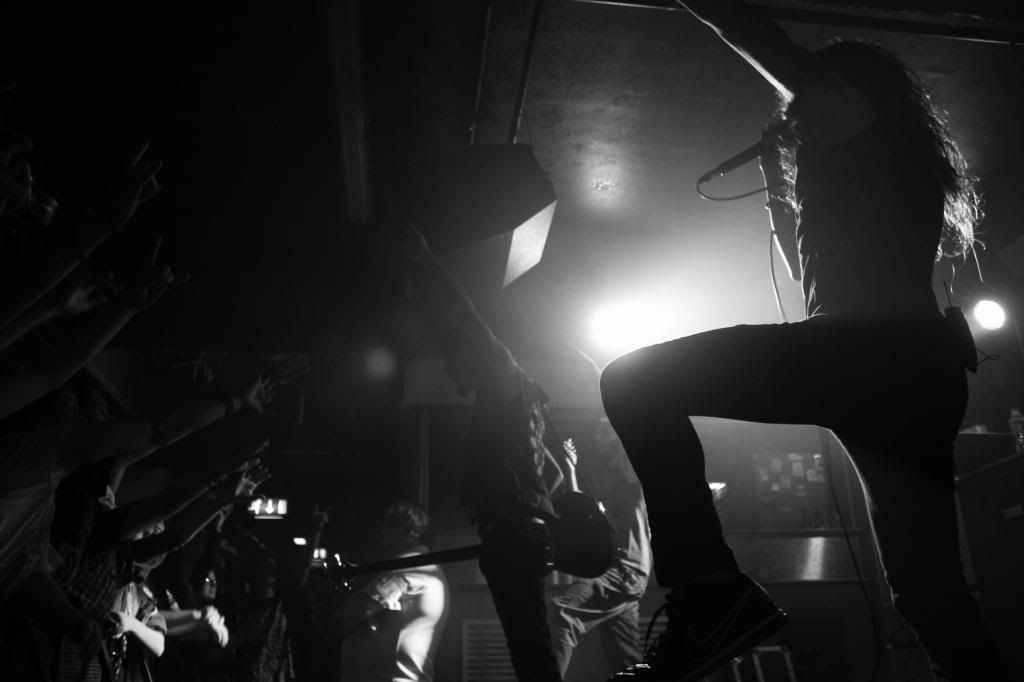 Miss May I storming Manchester
"Let me see those horns", demands Levi and the crowd comply and sing along to one song after the next. The anthemic "Masses Of A Dying Breed" is followed by an impressive drum solo interlude by Jerod Boyd. Miss May I prove what a flair they have for creating the perfect mix of both clean and unclean vocals routed against killer hooks. The rise and fall in the set spurs the crowd on (guy in crocodile Kigu included) and the band instigate a circle pit around the entire venue; a marathon pit as it is known to the band,.
In the short time that Miss May I has been a band they have helped elevate the metal scene and prove to be constantly intriguing and switching their style up. And tonight is no different. Ending the set with the dynamic "Day By Day" it isn't long before a call to arms brings Miss May I back on stage, much to the delight of the audience. Coming to life on stage the band closes the evening with the infectious and powerful "Relentless Chaos". Ryan Neff's clean melodic vocals soar out into the venue, book ended by Levi's piercing coarse tones. Miss May I is a band that aren't shy at putting their heart into each show as they bound up and down the stage, with Levi venturing out into the crowd, they prove that there are definitely no first night nerves here.There is no doubt that you need to get a ticket and get yourself down to a Miss May I show.