Slam Dunk Festival is now in its 8th year and the 2013 festival is set to be even bigger and better than ever before. What used to be a two day festival has now been expanded to a full 3 day touring festival beginning at Leeds before heading to Hatfield and rounding off at the new location of Wolverhampton.
To find out more about how you can be there and who are the first set of acts to be announced, including All Time Low and Pierce The Veil click below...
The hit festival is back over the May bank holiday weekend and as well as the usual sites at Leeds Uni and South Herts Uni an additional day has been added at Wolverhampton Civic.

The new Midlands Festival will be a full version of the festival and will have the same acts and number of stages (7) including outdoor stages as the Leeds & Hatfield sites.
Saturday 25th May: Slam Dunk Festival North Leeds University
Sunday 26th May: Slam Dunk Festival South Herts Uni, Hatfield
Monday 27th May: Slam Dunk Festival Midlands Wolverhampton Civic
And here is the first list of bands you will be able to check out -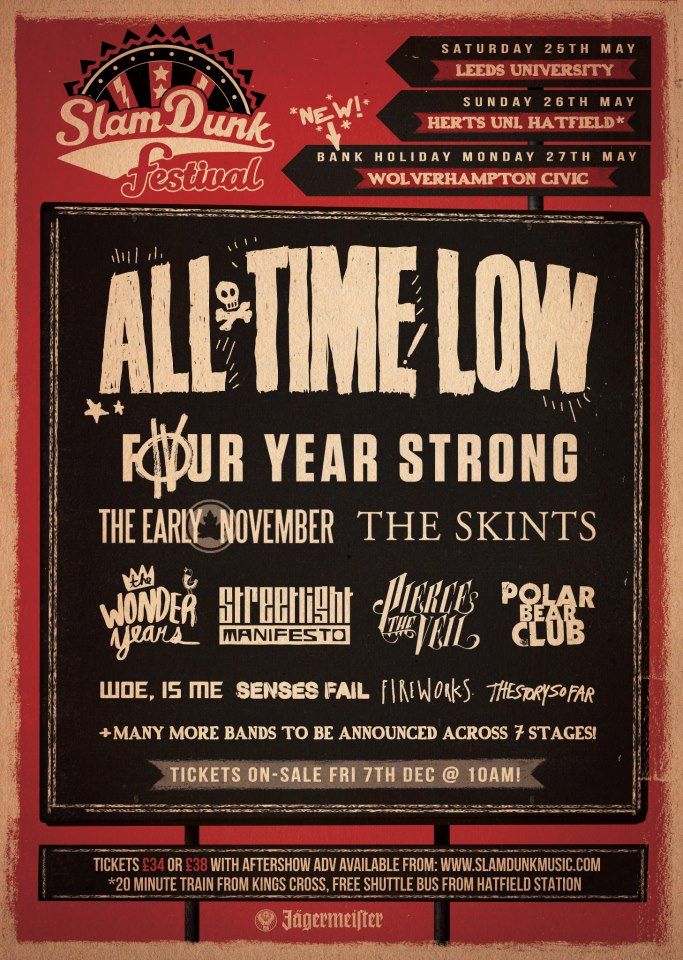 All Time Low
Pierce The Veil
Streetlight Manifesto
Woe Is Me
The Early November
The Wonder Years
Fireworks
Four Year Strong
The Story So Far
Senses Fail
The Skints
Polar Bear Club plus LOADS more to be announced
Already this year Est.1987 has caught up with and interviewed a few of the acts, including Pierce The Veil [HERE] & The Story So Far [HERE], so we can guarentee that Slam Dunk Festival 2013 is going to be phenomenal.
All shows are 14+ and aftershows 18+. Onsale: Friday 7th December at 10am.
Tickets are £34 or £38 including the infamous aftershow party. For details go to
www.slamdunkmusic.com/tickets
(
http://www.slamdunkmusic.com/tickets
)