Far from a quiet weekend away by the Sea, our days were filled scouting out the best new bands on the scene and our nights with exclusive after parties and copious amounts of the south's finest cider, (not that we're complaining).
So, here is our run down of our top 5 acts we jammed out to this weekend.
Friday, 2045, Horatio's, NME Radar Stage.
H
oratio's isn't the most typical venue, but it's where our Great Escape started. Situated at the end of Brighton Pier it is working men's club chic meets foisty school hall- and it totally worked! Tribes have gone viral and with a cult following the venue is buzzing as the crowd await their arrival. Harking back to the more grunge, DIY days of 90s bands REM and Nirvana, Tribes command the stage with confident, catchy choruses and remain tight throughout their set. The hype surrounding this band at the moment is well justified: their mix of something "a little bit heavier" with lyrics that aim to raise questions and confrontation ("
What use is God if you can't see him")
is what drew the large crowd here tonight. Songs such as single, "We Were Children" mark this band as ones to watch this festival season.
Friday, 2215, Horatio's, NME Radar Stage.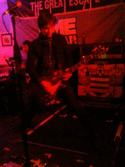 "W
ho's gonna be first in the sea then?!" shouts singer Lee as he admits this is the band's first "water show". Brother are a band that the jury is still out on, however the four lads from Slough seem to only feed off this. The boys' confident attitudes at times seem naïve, but they certainly have drive and charisma: renowned for stating
"If anyone here doesn't want to see the future of music, leave now!". Song "Electric Daydream", which they've only played a couple of times, definitely has an Oasis style vibe, something which the boys are keen to bring up to date! Stand out song "Darling Buds of May" is Brit-pop based with a quirky edge. Lee himself admits, "some people say it doesn't make sense, but it's fucking good isn't it?!". And tonight, here at Horatio's no-one is in disagreement. So, love them or hate them, Brother just want you to have an opinion on them!
Saturday, 1700, Shipwright's Yard.
The nice guys at Republic of Music put together a make shift venue in the yard of their offices and hosted a plethora of different acts from the bands which they represent. Each band playing would appear later that day in the festival so the short and sweet gigs, held outside, were a perfect taster of what was to come.
The queue stretching down the entire street says it all; Frankie & The Heartstrings are in demand. One of the least publicised gigs has ended up being the hottest ticket of the day. Crammed into a tiny courtyard, lead singer Frankie mounts the speaker to give everyone a view of the action.
The band are infectious and if you didn't enter the venue liking them you would definitely leave a fully fledged fan. Between their vintage quiffs and chic melodies, songs such as "Hunger" and "That Postcard" prove that this band are even better live than through stereo!
Saturday, 2045, Coalition.
After crashing Foster the People's soundcheck earlier on in the day we just couldn't resist coming back for more! Dare I crown them "the band of the festival" Foster The People manage to turn the awkward "club come venue" into a hotbed of drumming, tapping and all things spontaneous. Their catchy Indie/Pop-Punk rhythms are combined with hammering basslines, heavy drum beats and even the odd cowbell. One minute so slick as they switch instruments between songs and the next minute all hell breaks lose and they drum anything that moves. This band is one which immerses itself in the live experience. Mark Foster's soft shoe shuffle steals the show and the crowd follow suit, dancing wholeheartedly to songs such as "Pumped Up Kicks".
Foster The People are focussed, well rehearsed and energetic, yet still have the raw spontaneous stage presence that they had since forming in 2009. JUMP ON THIS BAND(S) WAGON!
Saturday, 2330, Corn Exchange.
So we thought the queue was big for Frankie & The Heartstrings…then we rolled up to the Corn Exchange for tonight's headliners, The Vaccines. One-in-one-out, but Est.1987 get in there to check out possibly the most in demand band playing here this weekend. Crowd favourites, "Post Break Up Sex" and "If You Wanna", act as catalysts, throwing the front half of the entire venue into a blur of arms and legs. "Wreakin' Bar (Ra Ra Ra)", less than a minute and a half long, was the perfect example tonight of why everyone and their grandma is listening to this band: short vignettes that are bursts of energy leave the entire crowd screaming for more.
"What Did You Expect From the Vaccines?" is the title of their debut album, and if I'm honest, yeah, I expected the same energy from within the crowd to be reciprocated onstage here tonight by the guys themselves. However, I guess I have to hand it to them; their awkward and static, jerky movements didn't leave the crowd complaining, not even the "cynics at the back" as singer Justin Young points out.